East Mesa Reentry Facility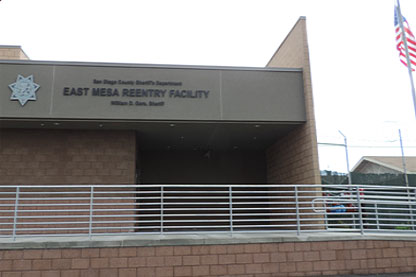 Address: 446 Alta Rd., Ste. 5200, San Diego, California 92158
Telephone: (619) 210-0334
The East Mesa Reentry Facility (EMRF) was initially built as a probation camp in conjunction with the George F. Bailey Detention Facility. It was turned over to the San Diego County Sheriff's Department in 1991. In 2014 the East Mesa Reentry Facility not only completed an expansion project but went through a name change as well. The name now reflects its new mission in the Detention Services Bureau; to operate the Reentry services for the Sheriff's Department.
EMRF has a Board of State and Community Corrections (BSCC) rated capacity of 760 beds and currently has over 900 available beds. EMRF is a Type II medium security facility. EMRF rests on eight acres in south San Diego County near the Otay Mesa border crossing. It consists of six housing dormitories, recreation areas, a mess hall, several classrooms, counselor, medical, probation and administrative offices. The landscaping and surrounding grounds are maintained by the inmate workers participating in the Landscaping Program. The benefits for inmates assigned to EMRF are the opportunities to work, earn incentives and participate provided at this facility due to the lower classification levels of the inmates.
Laundry and food productions for all county detention facilities including juvenile detention facilities is coordinated at the Central Production Plant located at EMRF. Inmate workers are used at the facility in the department's growing reentry and vocational programs. Reentry and vocational programs include: Print Shop Services, Janitorial, Construction Trades, Landscaping, Bakery, Food Handling, Bike Shop and Community Involved Vocational Inmate Crew Services (CIVICS).
The Grossmont Union High School District manages and teaches the following programs at EMRF: High School Equivalency Test (formerly GED), Construction Trades, Printing Operation, Janitorial Services, Industrial Laundry Machine Operation, Landscaping, Bakery Production, and Serve-Safe.
The Sheriff's Reentry Services Division is responsible for developing and providing services to meet the challenge of reducing recidivism through a coordinated comprehensive effort. EMRF is able to provide programs that focus on educational, vocational and psycho-social areas.
Inmate participation in the programming is case managed and delivered by counseling professionals. The staff of the Reentry Services Division collaborates with the San Diego County criminal justice partners to provide a case management system for offenders to have smooth reentry into our community.
Request A Free Consultation