George Bailey Detention Facility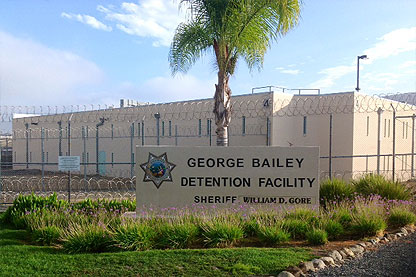 Address: 446 Alta Rd. Ste. 5300, San Diego, California 92158-0002
Telephone: (619) 210-0385
GBDF is a maximum security facility and the largest of all the facilities operated under the San Diego County Sheriff's jurisdiction. Construction of the facility was completed in 1991. The facility was opened for limited operation in 1993 and was fully operational in 1994.
The facility design includes six housing units, a medical area, an inmate processing area and an administrative area. Located in the administrative area are the Detentions Processing Unit, Operational Support Unit, and the Facility Command staff.
Staffing levels include sworn and professional staff in both operational and support roles. They are comprised of Food Services, Religious Services, Medical Services, Counseling Services, Laundry and Supply Services, Administrative Support Services, Detention Processing Services, and Maintenance Support.
The Board of State and Community Corrections (BSCC) rated capacity is 1,380 inmates. It houses a very diverse population of inmates, some with special housing needs. Currently, the facility houses three units of distinct special management inmates.
Request A Free Consultation